We have been advised of the passing of the following:
215180 Peter John McDonald, 2RAR
Vietnam (Cpl)
2nd Battalion, The Royal Australian Regiment
08 May 1967 – 14 May 1968
2nd Battalion, The Royal Australian Regiment
17 May 1970 – 01 Jun 1971
Mortar Pl, Spt Coy
Age: 74 years, passed away on Sunday 2 April.
Notes:
We valued the friendship of John and Eilleen for almost fifty years. There is tremendous sadness at the loss of another friend.
Kiwi and Margaret
36793 Warrant Officer Class 2 Raymond Heffernan, 2RAR, 6RAR, 6RAR/NZ (ANZAC), 4RAR/NZ (ANZAC), 2/4RAR
Malaya
2nd Battalion, Royal Australian Regiment
1961-63
Vietnam
6th Battalion, Royal Australian Regiment
1966-67
6th Battalion, Royal Australian Regiment (ANZAC Bn)
1969
4th Battalion, Royal Australian Regiment (ANZAC Bn) (SSGT)
1971
Age: 80+ years, passed away peacefully in the Townsville General Hospital on 8 April.
He is survived by his wife Jenny and an adult familyNotes:
Notes:
Ray is an old and bold and saw service with 2RAR in Malaya in 1963, two Vietnam tours (one a short tour) with 6RAR and 6 RAR/NZ(ANZAC) and a further tour with 4RAR/NZ (ANZAC) in 1971.  Post Vietnam Ray served with 2/4RAR (1973-74) and DINF and a number of other non-corps postings.
Ray's funeral will be held in Townsville at a time to be advised.
Allan Braby
Rest in Peace Raymond
16575 George Themicles Catsacos BEM, 2RAR, 2/4RAR
Vietnam (Sgt)
2nd Battalion, The Royal Australian Regiment
19 May 1967 – 02 Apr 1968
2nd Battalion, The Royal Australian Regiment
29 Apr 1970 – 01 May 1971
2nd/4th Battalion, The Royal Australian Regiment
1973-74
1976-82
British Empire Medal (1982)
Age: 87+ years, Passed away peacefully on Monday 13th March, 2017
Beloved Husband of Margaret. Much Loved Father and Father- in-law of Donna and Martin, Jane and David. Adored Grandfather of Renee, Danielle, David, Steven, Jacquileen, and their partners. Great Grandfather of their respective Families.
GEORGE will be sadly missed by his Sisters, Nephews, Nieces and their Families and his many Friends.
Notes:
Sad news from Colin 'Dicko' Dixon on Sunday that George Catsacos had been ill. Unfortunately I didn't get up to see him and was advised later on Monday morning that he had passed away at 3am Monday.
So sad that George has passed away, he was bloody good to many of us in 2nd and 2nd/4th Battalions and all the other units he was in.
He was a top CQ in my memory and unlike some others he did issue the equipment out.
George was very active with Dutchy Hemerik in the RAR Association for many years in Townsville and has always been a stalwart of the Regiment. RIP George Catsacos, our memories of you live on.
Thanks also to Phil Smailes and Tom Floyd for letting me know.
Merv Dicton
Rest in Peace George.
___

I remember George very well with fond memories. We used to play cards in the Q Store with the sides dropped of a night time when back in B Coy lines on the first tour. He loved a game of cards. Cheers William Ross
P.S. We used a small lamp to play.
33614 Sergeant Kerry Albert Smith, 2RAR
Korea (Sgt)
2nd Battalion, The Royal Australian Regiment
17/03/1953 to 06/04/ 1954
A Veteran of the HOOK
Age: 83+ years.
Notes:
Kerry was a wonderful veteran of the Korean War. He was the Bandmaster in 2RAR in Puckapunyal and Korea. He did a lot of Welfare work around the Bundaberg area.  In 1996, Kerry asked me to gather as many K Veterans from Brisbane and hire a bus and have ANZAC Day in Childers; this we did. We attended four dawn services, lunch and dinner, to say it was a great success.
I wanted Kerry to be President of the 2RAR Association very early but he declined because he lived too far away.   Kerry suffered lung cancer for many years.
In February 2009, Kerry advised me that he was going to hold on as long as he could and "I DO have a 2RAR Reunion to attend in October!! 8 years on. Recorded in RINGO.
Lest we Forget.
Dasher Dean, OAM
6708425 Private Graham Allan Clare, 2RAR
Vietnam (Pte)
2nd Battalion, The Royal Australian Regiment
08 May 1967 to 14 Nov 1967
8 Pl C Coy
Age: 71+ years
Sad news of the passing of Graham Clare at Launceston, Tasmania on 8 August after a long illness.
Our Soldier fought a brave battle, remembered always for that cheeky smile and big heart.
Published in The Examiner on Aug. 10, 2016
Thanks Don Frew
Further information about Graham will be appreciated
Rest in Peace Graham
25644, 213511 Warrant Officer Class Two David Llewellyn Owen, 2RAR
David enlisted as OWEN on 6 February 1952. Discharge 29 August 1975.
Korea (Pte)
2nd Battalion, The Royal Australian Regiment (ICB)
17 Mar 1953 to 17 Jun 1953
2nd Battalion, The Royal Australian Regiment
21 Aug 1953 to 06 Apr 1954
Japan (Pte)
17 Jun to 20 Aug 1953
Age: 87+ years
It is with sadness that I inform you of the passing of our father who was a very proud veteran. David Llewellyn Owens served in Korea in 53-54. David passed peacefully after battling cancer for a number of years on 28th November 2016 aged 87 years.  David enjoyed reading RINGO. There may be some veterans who will have known David if you would kindly acknowledge through RINGO.
Karen Owens (Daughter)
Rest in Peace David.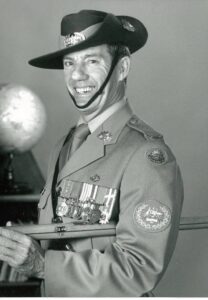 215581 Warrant Officer Class 1 Arthur Murphy Francis, CSC, OAM, 2, 3, 4, 8/9RAR
Vietnam (Cpl)
2nd Battalion, The Royal Australian Regiment
1967-68
Vietnam (SGT)
2nd Battalion, The Royal Australian Regiment
1970-71
Regimental Sergeant Major of the Army (RSM-A)
1993-96
Notes:
Sadly I have to tell those of you who have not already heard that Frangar passed away early this morning. A great man and a very good friend to us all – gone.
Jane and I were with Arthur, Pam and their family on Friday night and he was fine considering the tough times he has been going through over recent years.
Several of Arthur's very close friends and his family are with Pam and are helping her at the moment. It may be best to delay calling her for a day or two until things settle down a little.
I will be back in touch as soon as I have more information.
This is a very, very sad day for us all.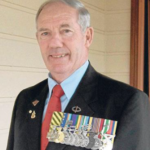 Eric Pearson
RIP Arthur.  You were a standout soldier in all the ranks and roles you fulfilled in the Army.  You were an exceptional leader, a mentor, and a fair-dinkum decent bloke.
Gordon Hurford
This is deeply saddening news. Not only was Arthur a soldier of the highest order, he was a true gentlemen. His patience, mentoring, and decency in all dealing was "Second to None".   He has left a legacy to the ADF which is not measurable.
Our thoughts and prayers are with his family and friends at this tragic time.
Trent Morris
Sadly, for those that may not already be aware, Arthur Francis passed away over the weekend in Singleton. Arthur was the 4th RSM Army (Dec 93 – Dec 96).   Arthur was an active Honorary Member of the School of Infantry Sergeants Mess and heavily involved in Legacy. He had just celebrated his 70th birthday last Thursday with family and friends. Arthur slipped away peacefully by his wife Pam's side Saturday night.
A Military funeral will be held at Singleton early next week (Tuesday 16th).
Arthur was a true gentleman and a great soldier. He will be missed.
Dave Galloway
WO1
RSM FORCOMD
Victoria Barracks
Paddington, NSW 2021
Thanks Gordon, the news of the passing of Arthur came as a shock to us both.
Very sad news.
Rick & Rhonda Hollingdrake

1200730 Chaplain Lester (Les) Thompson, HQ 1ATF
Vietnam (Chap)
Headquarters, 1st Australian Task Force
11/06/1966 to 11/12/1966
Royal Australian Army Chaplains Department
Padre Les Thompson passed away late on Tue 26 July in Brisbane, aged 87+.
Notes:
If my memory is any good, he was well regarded as a soldier before becoming a minister. I knew him as a Chaplain at Duntroon. Rest in Peace Padre
Peter Howe
—
I remember Padre Les Thompson well. He was C of E and served us in 6RAR for the first six months of our tour (1966-67) during our heady introduction to Vietnam, with Long Tan and other serious battles with the Viet Cong previous to that, and others to come.  In an earlier life Les Thompson had served as a digger in 67th Australian Infantry Battalion (later 3RAR) in Japan in 1946-47.
Les was at my company command post during the early stages of the Battle of Long Tan and together with me and my company headquarters staff listened in on several command net radios to the unfolding saga.   Later that year during Operation Vaucluse in the Nui Dinh Mountains, on 10 September 1966, Les was with the Battalion in the field during heavy contact with the enemy and helped with administering to a very seriously wounded soldier of my company before he was lifted out in an heroic effort by a US Army Dustoff helicopter.
Les was an excellent Chaplain who understood and related well to the diggers, and indeed all ranks, and was a pleasant and amiable companion to all of us in that awful place that was Nui Dat. I am sorry to hear of his death and my condolences go to his family and friends.
Brian McFarlane
—
I remember Les with great fondness. He was my full time chaplain in Enoggera when I was in command of 6RAR from 1975 to 1978. We were very good family friends and he and his wife Beryl often baby-sat our children when we were away. He had two boys at home at that time Mark (deceased) and Paul. His daughter Dianne had married a young Engineer officer who had been a staff cadet when Les was the C of E chaplain at RMC. I imagine that Beryl his wife had pre deceased him as she was seriously ailing when I last spoke to Les which must have been ten years ago and they had both moved into care; I think Les was wheel chair bound by then.
Les was irrepressibly good-humoured and had a wonderful mischievous streak. He was very popular with the diggers and had served with 6 in Singapore as well as earlier in SVN. He and my first 2IC George Mansford were a treat to have around the HQ at any time. Amongst his very best friends in the Chaplains Dept were RC Chaplains Gerry Cudmore (deceased) and Eugene Harley (Hon Padre 2RAR) and it is recorded that they often got up to mischief together. Les was the resident Anglican chaplain on Norfolk Island for some years in the eighties when Gerry and Eugene visited for a holiday and there were some very amusing stories told. 
I have lost contact with any of the family for many years now but if the 2RAR Association has contact with any of his family I would be grateful if Evelyn's and my condolences could be passed on. I don't even know where Di and her family settled nor do I have any info on Paul's whereabouts. I will endeavour to let Eugene Harley know although his grapevine is likely to be more efficient than mine. 
Peter Stokes
29060 Warrant-Officer Class 2 Thomas Derek Nicol, 2RAR, HQ 1ATF
Korea (Pte)
17 March 1953 to 11 November 1953
2nd Battalion, The Royal Australian Regiment
Veteran of The HOOK
Vietnam (WO2)
HQ 1ATF: Australian Force Vietnam Cash Office
29/07/1969 to 18/06/1970
Royal Australian Army Service Corps
POB: Liverpool, Lancashire, England
Tom Nicol passed away on 20/07/16 at Narrabeen NSW aged 83+.
Notes:
Tom served in Korea and was a veteran of the Battle of the HOOK.
Tom was a parachute mate of John Church CO 2RAR 1970-71.
Bob Wallace

16823 Warrant Officer Class 1 Robert Ernest (Marbuc) McKeown, OAM 3RAR, 2RAR
Malaysia 1963-65
3rd Battalion, The Royal Australian Regiment
Vietnam (Cpl)
2nd Battalion, The Royal Australian Regiment
19/05/1967 to 13/06/1968
Vietnam (Sgt)
2nd Battalion, The Royal Australian Regiment
17/05/1970 to 01/06/1971
Bob passed away on 3 June aged 72+ years.
Just wanted to let you know that sadly dad passed away around 1am this morning in Wagga Wagga. He had been unwell for some time and decided enough was enough.
Tracey Lakey
Funeral
Friday 8th July 2016 at 11.00am at Alan Harris McDonald Funeral Home, Copland Street, Wagga Wagga, NSW.
Donations to Palliative Care at Calvary Hospital will be taken at the service.
Medals to be worn, as entitled.
Notes:
Good Morning Charlie Company Grunts
He was born at Altona, Victoria on 14/10/43 and served in SVN with 2RAR in 19/5/67-13/6/68 and 17/5/70-1/6/71, a total of 773 days.
I'm sure that most of us lowly Grunts of 8 Platoon still remember those dark beady eyes that could look straight through you.Did anyone from 8 Platoon ever see Marbuc smile?
Mick Bell
—
I was in the same PL in 3RAR, with Bob who was a reo from 2RAR. You would know him from first tour 2RAR C Coy 2RAR SVN.
WO PARRY
Bill 16704.
RIP Bob McKeown
15390 Major Eric James Andrews, 2RAR, 6RAR, 3RAR
Vietnam (2Lt)
6th Battalion, The Royal Australian Regiment
06/06/1966 to 08/06/1967
Vietnam (Capt)
3rd Battalion, The Royal Australian Regiment
12/02/1971 to 18/11/1971
PNG (Wewak) 1973-75
Vale Eric Andrews: 1942 – 2016
Eric passed away in Toowoomba aged 74 years.
Sad news of the passing of Maj Eric (Lobster) Andrews. A notable Rugby Union player of the 60/70s passed away in Toowoomba.
Darcy Duggan
Rest in Peace Eric
FUNERAL
A memorial service will be held at St Paul's Anglican Church Parish Hall, Corundum St, Stanthorpe on Sunday 10th July from 2.00pm and friends are invited to attend.
Notes:
The Queensland Rugby community is in mourning following the passing of Queensland representative rugby player Eric Andrews aged 73, who was also a decorated soldier and orienteering expert.  Mr. Andrews' represented Queensland as Hooker during the 1970 and 1972 seasons, earning six caps.
In preparation for his first tour of Vietnam with 6 RAR in 1966, Eric attended Officer Cadet School, Portsea, where he was made Company Major Sergeant and awarded the Sword of Honour, while also excelling at football.  A strong and determined competitor, Eric's rugby experience grew while representing North Queensland Army, Queensland Army, Queensland Services and Australian Services Rugby Union. The game formed a highlight of his service career, which included facing the 1968 All Blacks in Sydney.
1970 saw Eric training at Ballymore before embarking on the New Zealand Tour as a reserve. Debuting against Nelson Bays on 13/6/1970, Andrews lined up alongside Queensland and Australian legends Jules Guerassimoff, Jeff McLean and Stan Pilecki. The game was won and Andrews continued to apply his brawny style against West Coast and Wairapa.
A second tour of Vietnam, this time with 3 RAR, caused Eric to miss the 1971 Rugby season. Slotting straight back into the State side in 1972, Eric faced Victoria and Sydney on the Southern Tour, before returning to Ballymore to meet the Australian Combined Services side in August to conclude his six-cap representative career.
Eric's military career extended until he retired as a Major in 1983 after twenty-five years of service.  In retirement, Eric became involved with Orienteering, where he served as a competitor, administrator, selector, technical director, event organiser and mapper. Few have made a more significant contribution to the sport in Australia.  His efforts have been recognised through the awarding of Life membership of the Queensland Orienteering Association in 2001 and Orienteering Australia's Silva Award for services to orienteering in 1992, among many other plaudits.
QRU
Very sad to hear of the passing of Major Andrews who I came to know well during his time with the 3rd Battalion. Unfortunately I will be in WA at the time of his funeral so will be unable to attend but would like to pass on my condolences to his wife & family.
During our tour I was at Fire Support Base "Beth" when I was told to get on the next chopper back to Nui Dat, no one seemed to know why & I thought something had happened to a member of my family.  On arrival at The Dat I was met by the then Capt. Andrews who threw a bag at me & said your boots & shorts are in there, get them on we have a game against the Kiwi's in about half an hour.  We played the game I got on the next chopper & went bush again….
He loved his Rugby.
John "Harry" Harris
3400638 Private Frederick Desmond Drake, 1RAR, 2RAR
Korea (Pte)
1st Battalion, The Royal Australian Regiment
20 September 1952 to 21 March 1953
2nd Battalion, The Royal Australian Regiment
22 March 1953 to 25 June 1953
Days in Service: 279
Passed away 17 May 2016, aged 83+ years.
FUNERAL
The Funeral Service to Celebrate the Life of Mr Frederick (Frank) Drake was held at Bunurong Memorial Park, Dandenong South on Monday May 23, 2016. This was followed by a Burial Service within the grounds.
Rest in Peace Frank.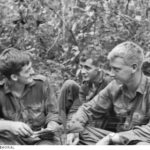 3411739 Private Robert Leslie Dowse, 2RAR
Vietnam (Pte)
1 Australian Reinforcement Unit
10/10/1967 to 03/11/1967
2nd Battalion, The Royal Australian Regiment
04/11/1967 to 13/06/1968
Bob Dowse passed away on 19 May 16, aged 68+
Bob's funeral will be held on Monday 30th May 2016 at 1.30pm.  LOC: David W. Bull, Funeral Directors, 190 Princes Hwy, Pakenham VIC 3810
MAP: http://bit.ly/1OVq381
Gary Elliott from the West Gippsland Vietnam Veterans' Association will assist in the remembrance service.   Members to wear medals as entitled
Messages of condolences can be sent to:
Mrs Maureen Dowse
25 Clearwater Drive
PAKENHAM   VIC   3810
Rest in Peace, Bob
Notes:
Very sad news from John Hawes that Bob appears to have suffered a massive heart attack on his way to hospital as he had been experiencing breathing problems.
Thanks John Hawes
Rest in Peace Robert (our stowaway and our machine gunner with 2 x M60's).
Get with the Strength
Rick Hollingdrake
From the Diary: Friday 19 May 1967 was LCpl Vic Anderson's 21st Birthday, and he had snuck Pte Bob Dowse aboard HMAS Sydney departing Brisbane for Vung Tau. CSM 'Lofty' May happened upon Bob and he got a chopper ride back to land and a slap on the wrist. Bob re-joined us [D Coy] later as an M-60 gunner.
Pte Wally J Musgrave (Retd)
RIP brother
Jeff Jorgensen
WX40384, 52852 Lance-Corporal Herbert Oswald Becke, 2nd Aust Fd Arty Trg Regt, 1RAR, 2RAR, 4RAR
World War II (Gnr)
2 Australian Field Artillery Training Regiment
DOE: 13 August 1943
POE: CAMP 320, WA
DOD: 21 June 1946
Korea (Pte)
1st Battalion, The Royal Australian Regiment
24 July 1952 to 1 August 1953
Malaya/Malaysia (Pte)
2nd Battalion, The Royal Australian Regiment
1955-57
1960-61
Vietnam (LCpl)
4th Battalion, The Royal Australian Regiment
14/05/1968 to 21/05/1969
4th Battalion, The Royal Australian Regiment
13/05/1971 to 17/12/1971
Herbert Oswald Becke passed away in WA on 18 May 2016, aged 91+
Notes:
My memory tells me that Herbie served in WW2.  He told a story about when he joined up in 1941 and asked for enlistment in the Light Horse. He was accepted and was sent to Northam to join 10 LH but when they kitted him and gave him a horse, his feet would not reach the stirrups. As a result he was posted to 11Bn AIF. I have no proof of this but he certainly wore the Medals. As a Private soldier in 2RAR when I marched in in 1960 he was a senior soldier, who was always willing to help out new recruits. He was in C Company with Big Stan and Rufus Symons.  He stayed there until we went to join 4 RAR in 1964. He then served with 4 RAR in various roles until leaving the Battalion to return to Perth where he was a Mess Orderly at Campbell Barracks until retirement. Following this he returned to the same job as a civilian where he worked until age and ill health forced him to retire. Rest in Peace Herbie.
Toad Fletcher


2/5795 Corporal Keith Patrick Jordan, 2RAR
Malaya (Cpl)
2nd Battalion, The Royal Australian Regiment
1955-57
Keith Jordan passed away on 18 May 2016
Notes:
Sad news from Bob Bak, President of the Integrated Service-people's Association of Australia, based at Bethungra (near Cootamundra), NSW on the passing of Keith Patrick Jordan. Keith served with the 2nd Battalion the Royal Australian Regiment in Malaya 1955-57.
Enlistment Date 7/2/1952 (2RAR)
Discharge Date 7/2/1958
Operational Service – Malaya and Far East Strategic Reserve
I was informed of his passing by his daughter around noon yesterday.  Keith is survived by daughters Sharon, Marianne, Joanne, and son Robert John.
Robert Bak
President
Integrated Servicepeople's Association of Australia
—
On behalf of the 2nd Battalion, The Royal Australian Regiment Association we acknowledge the passing of our esteemed comrade Corporal Keith Patrick Jordan. Keith served in 2RAR Malaya 1955-57.
On 2nd April 1955 the Prime Minister announced that 3,500 servicemen would be sent to Malaya. The 2nd Battalion main body of 800 men arrived in Malaya on MV Georgic on 19th October 1955 just one of 134 different units from the Commonwealth that served in the 12 year period.
An estimated 1000 guerrillas remained in the jungle from a 1950 total of 11,000. The second Battalion became part of the 28th British Commonwealth Brigade along with the 3rd Malay Regiment and 1st Royal Scots Fusiliers. In the early years the Malayan Communist Party (MCP) leaders ordered atrocities against the Malay population. It is believed this violent approach by the MPC was one aspect that contributed to a British/Malay victory. 
"Then, after a short acclimatization period at Minden Barracks and a 2 day patrol in the jungle of Penang to sharpen the troops skills, in January 1956 2RAR proceeded to the Malay mainland and commenced operations in Kedah for a short time and then to Perak where the MCP were most active. The patrols can only be described as frustrating, debilitating. The Malayan jungle was some of the most formidable in the world, completely shutting out the sun and sky creating a stifling humid heat. In some places a patrol would cover a mile in about four hours, in some cases where thick bamboo was encountered, longer and each soldier had to take turns chopping away with a machete. Fallen huge trees needed to be climbed over and fast running streams forded, every effort taxed the overheated  body to the limit which was only eased by small sips of water from a small water bottle. The weight you carried your pack and the ammunition varied but was always exhausting. The medics conducted  sick parades  and treated everything from cuts, abrasions, lancing boils, tinea, blisters and bullet wounds. There were additional hazards such as malaria, scrub-typhus, jaundice, dysentery, jungle ulcers, prickly heat, foot rot and ringworm and then there was the enemy. Medical equipment was basic, with some supplies like sutures and needles, scalpels and other instruments. We had to fight for morphine which we eventually received, calamine lotion was a cure all as was iodine and antibiotics."
The lot of an infantryman was forever thus.
Keith, thank you for your service.
Rest in Peace.
Leo Van De Kamp
President
2RAR Association, Inc
Colonel Laurence Cresswell Chambers, 2RAR
Malaya (Maj)
2nd Battalion, The Royal Australian Regiment
Age: 93 years
Sad news from Bob Fletcher that Colonel Laurence Cresswell Chambers died 12 Apr 2016 at Repatriation Hospital Heidelberg, VIC aged 93.
Notes:
He was an RAASC officer who served as OC C Company 2 RAR 1955 – 1957.
218886 Lance-Corporal Michael John Price, 2RAR/NZ (ANZAC) Bn
Vietnam (L/Cpl)
2nd Battalion, The Royal Australian Regiment
12/05/1970 to 01/06/1971
Mick passed away on Tuesday 12 April 2016 in northern NSW.
More info – Ross Kenny Tel (07) 47415172 or 0407 160140
13578 Lance Corporal Keith Edward Walsh, 2RAR, 1ARU, 1ACAU
Malaya (Pte)
1955-57
2nd Battalion, The Royal Australian Regiment
Malaysia
1961-63
2nd Battalion, The Royal Australian Regiment
Vietnam (LCpl)
1 Australian Reinforcement Unit
17/03/1971 TO 29/03/1971
1st Australian Civil Affairs Unit
30/03/1971 TO 30/09/1971
Keith Edward passed away at Garbutt, Townsville aged 83+ years.  A private Cremation was held for Keith on Tuesday 9th February, 2016. He had wanted a private cremation. Details were published in the Townsville Bulletin on 16th February 2016
Notes:
Keith was born on Palm Island, QLD, where he enlisted. Upon completing his training he was posted to the 2RAR, where he served two tours of active duty, 1955/57 in Malaya, and 1961/63 in Malaysia.  He served on active service in South Vietnam during the period 1971.
Jan 'Dutchy' Hemerik
It was a sad day to hear that our cobber, Jacky Walsh has passed on.   How the memories flowed as I recalled this wonderful bloke from the very beginning of soldiering days when we first said gidday.  We joined a column which marched into all those tomorrows.
Jacky was one of many indigenous soldiers whom I had the honour to serve with. Over the years there were many indigenous in our family and some of whom paid the supreme sacrifice.
Fortunately, our soldiering days were long before political correctness arrived on parade. It didn't matter who we were or where we had come from. It was the same ethos, the same rules and the same punishment for all. It didn't take long before we were a close band of brothers.
In the course of soldiering, we never blinked if someone in our military family used the term "black or white bastard." For us it was a term of endearment. Mind you, if used by a stranger it was considered an insult to all in our group.
Jacky had a sharp sense of humour.   In later years he passed a message via another old comrade, Frank Moffitt which stated, "Just passed George's place but short of time. I placed some rocks on his property and an official note that I am claiming his land."
Oh, Jacky Walsh, we're going to miss you, you magnificent old bastard. 
George Mansford March 2016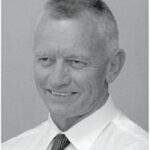 235355 Brigadier William Douglas (Bill) Rolfe, AO
Vietnam (Lt, WIA, MID)
2nd Battalion, The Royal Australian Regiment
29/04/1970 to 10/08/1970
Bill Rolfe passed away on the of morning Friday 4 Mar 2016 at about 0800 hrs in Clare Holland Hospice, Canberra. His funeral will be held on Wednesday 9 March 2016 at 1030 hrs at St Paul's Memorial ANZAC Chapels, RMC Duntroon, in the Anglican Chapel. Details to be confirmed later.
Notes:
Bill had been ill for some time and died peacefully with Joan and family by his side. Despite his disabilities, Bill led a very full life and will be mourned by many in the veterans community. Rest in peace, Bill.
John Robbins
RARA (ACT Branch) Members, Associates and Infantrymen
The sad news we have been expecting. Our dear friend and comrade in arms passed away peacefully this morning at 8am, at the care facility in Canberra.
We have been fortunate to have been associated with this unique man. He was a person of great character and qualities, and he was widely admired and respected.
The world is poorer for his passing.
Pat Savage
Rest in Peace
He was a great man, a great advocate for Veterans.
Paul Murphy
Founder A V V R G Inc.
Author 'The Quiet Australians Saints and Sinners'

The sad passing of an outstanding soldier and a wonderful human being.  Rest in peace, Bill.
John George, OBE
Brigadier Bill Rolfe AO (Retd) was a highly respected member of Australia's ex-service community. He passed away on 4 March 2016 and RSL extends its heartfelt sympathy to his family and friends.  National President, Ken Doolan said, "All of us owe much to the tireless efforts of Brigadier Bill Rolfe for his work as Repatriation Commissioner and as a member of the Defence Force Remuneration Tribunal. On behalf of the National Board and members of the Returned & Services League of Australia I convey sincere condolences to his widow, Joan and family.
National RSL
243154 Lance-Corporal Garnet (Buck) Rogers, 2RAR, 4RAR
Vietnam (LCpl)
4th Battalion, The Royal Australian Regiment
21/05/1968 to 30/05/1969
2nd Battalion, The Royal Australian Regiment
We have no further information on Buck's service with 2RAR.
Age: 73+ years
Notes:
Vale – Garmet 'Buck' Rogers
Former Army Apprentice Garnet 'Buck' Rogers passed away in Adelaide Hospital at 2.00am on Tue 26 Jan 2016 after being admitted the day prior and was diagnosed with cancer of the liver.  Buck was a member of the 14.5 intake of Musicians who joined in July 1959 and after his graduation in 1961 he served in 2RAR and 4RAR and saw service in Malaya/Borneo and Vietnam.  He discharged after completing 20 years service.  Buck and his family just recently returned to South Australia from North Queensland and lived in Mt Gambier.  He is survived by his wife Fe and his two children, Usula and James.
RIP… from his mates from the 14th Class of Army Apprentices
Keith Harrison
Thanks Malcolm Allen
57005 Colonel John Murray Church DSO, 3RAR, 2RAR
Japan/Korea (Lt)
Headquarters, British Commonwealth Occupation Force
28 September 1950 to 28 September 1950
Australian Ancillary Unit Korea
18 October 1950 to 19 October 1950
3rd Battalion, The Royal Australian Regiment
4 December 1950 to 17 March 1951
Malaysia/Borneo
3rd Battalion, The Royal Australian Regiment
1963-65
Vietnam
Visit  16/04/1963 to 25/04/1963
Visit  19/02/1968 to 04/03/1968
Visit  08/10/1969 to 22/10/1969
2nd Battalion, The Royal Australian Regiment (Lt Col CO 2RAR; Companion of the Distinguished Service Order)
29/04/1970 to 01/06/1971
Commanding Officer: 2RAR/NZ (ANZAC) Battalion 1970-71.
John Church passed away on 26 January at Canberra, ACT, aged 87+ years.
Rest in Peace John
Notes:
Colonel John Church, DSO (Retd) was the Patron of 2RAR Association, a position he held for several years.
151346, 1400604, 14004 Private/Corporal Kenneth Humber Crockford, MM
WW2 (RAAF. 151346, Leading Aircraftman)
DOE: 4 Feb 1944
DOD: 14 Feb 1946
Posting on Discharge: 6 Aircraft Depot
Korea (Pte/Cpl, MM)
23 March 1953 to 6 April 1954
2nd Battalion, The Royal Australian Regiment
Malaya 1955-57 (Cpl)
2nd Battalion, The Royal Australian Regiment
Kenneth Humber Crockford M.M. passed away 25/01/2016 aged 90+ years. DOB: 21/06/1925.
"Cpl Crockford commanded a section of six men holding a contact bunker between Hill 111 and Hill 121. A heavy artillery barrage fell on the whole area followed by a fierce assault by an estimated enemy company. A bitter hand to hand fight ensued around Cpl Crockford's position in which he skilfully and coolly directed the fire of his Section, moving around with complete disregard for his own safety. He thus prevented the enemy from isolating the two hills despite the fact that his own small party was fighting entirely on its own. Cpl Crockford displayed outstanding leadership, throughout the night incessantly passing back information to the Battalion over the wireless, moving forward through heavy shellfire to obtain this. His realisation of the need to constantly pass back information despite the cost, and his successful maintaining of the morale of the men of his surrounded party was beyond praise".
South Korea. August 1953.
Informal portrait (at link) of Corporal (Cpl) Kenneth Crockford, 2nd Battalion, The Royal Australian Regiment (2RAR), of Morningside, Qld, who received the Military Medal (MM) for his conduct during an action on the night of 25 July 1953.   https://www.awm.gov.au/collection/HOBJ4566/
Notes:
Ken lived in Howard QLD.  Budda Rapmam, who was with Ken in the bunker between Hill 121 & Hill 111, and me, will attend.   Rest in Peace Kenneth.
Kevin 'Dasher' Dean, OAM

R.I.P Ken.  Another Hero, gone
Butch Mathew
I served with Ken in Malaya in C Coy 2 RAR.  We were both Section Commanders.  I lost contact after and was not aware he lived in Howard not far from Bundy.
Would like to offer my condolences and could you send me funeral arrangements. He was a fine Infantryman and a "good bloke".
Don Lynch
Vale Cpl. Ken Crockford.  Paz Vobiscum.   Nulli Secundus
Ron (Pappy) Walker.
Duty First

335066 Major Ian Guildford Porteous, 2RAR, AATTV
Malaya (Lt)
2nd Battalion, The Royal Australian Regiment
1955-57
Vietnam (Maj)
Australian Army Training Team Vietnam
04/03/1968 to 04/03/1969
Maj Ian Porteous passed away on 2 January at 1830hrs, aged 79+ years.
Notes:
Ian served in 2RAR from 1954 to 1957 and commanded 7Pl, C Coy in Enoggera and in Malaya.
Barry Tinkler
"Major David Millie, Aviation Regiment,' arrived in Vietnam in May, 1968 and was sent to Quang Tri province in the far north of South Vietnam as adviser to the district chief of Mai Linh. The people were only beginning to emerge from the shock of Tet. Major Ian Porteous, Warrant Officer 2 `Ossie' Ostara and Major Max Norris, colleagues of Millie's in the Team, were still supervising the exhumation of the bodies of schoolteachers and other government officials and their families; they had been exterminated and deposited in mass graves by the Viet Cong and NVA during their temporary occupation of northern areas."
The Team, Australian Army Advisers in Vietnam 1962-1972, Page: 243
Rest in Peace Ian
 There is a tale I often tell each graduating class at RMC. In 1956, while on our first operation in Kedah, I was part of a water party returning to our base carrying bags of water bottles. Given the weight of water and distance downhill to creek and back uphill to base I was totally exhausted by the time I reached our firm base and in no mood for rules and regulations. The skipper (Lt Ian Porteous) was looking at me while holding a brew in one hand and a cigarette in the other. At that time, having been a soldier for several years and numerous run-ins with authority, I was still very suspicious, if not resentful of officers.
With a grin, Ian said "Your blood is worth bottling, George". I was in a new world. I had finally been recognised by at least one in authority as "George". Not "Private or hey you" but "George " and better still he shared the smoke and brew with me. I really was part of his team.  That very small recognition was the beginning of the turning point for me in regards officers and my other questionable attitudes to military authority. Needless to say, I developed the greatest respect for him. He always led by example, was never reluctant to defend his soldiers regardless of the consequences and a most impressive junior leader.
In the many years of soldiering that followed, I did from time to time keep in contact and always addressed him as Skipper or Boss. In the years that are left, I always will.
George Mansford
213307 Neil Henry McGavock
Malaya
2nd Battalion, The Royal Australian Regiment
1961-63
Sad news that Neil McGavock passed away on 1 January 2016, aged 80 years.
Notes:
Neil served as a career soldier for 23 years.    Neil served in 2RAR in C Coy 1961 – 1963 Malaya.
Neil also served with 1RAR in Vietnam from 7/6/65 to 11/12/65 Rank – Cpl.  Thanks Jock Kaminski
3797717 Private Malcolm Fredrick Betts, 1ARU, 2RAR
Vietnam (Pte)
1 Australian Reinforcement Unit
30/07/1970 to 01/09/1970
2nd Battalion, The Royal Australian Regiment
02/09/1970 to 01/06/1971
Sad news of the passing of Malcolm Betts aged 67+ years.
61780 Private Dennis James Denehey, 2RAR
Vietnam (Pte)
Headquarters, 1st Australian Task Force
18/03/1967 to 29/09/1967
I Australian Reinforcement Unit
30/09/1967 to 20/10/1967
2nd Battalion, The Royal Australian Regiment
21/10/1967 to 28/11/1967
Delta Company, 2RAR
Dennis passed away 12 November 2015 at Mount Morgan, Queensland aged 69+ years.
Notes:
It is with regret that I inform you of the passing of Dennis Denehey formally of 2RAR, 21 October 1967 to 28 November 1967 posted to D Coy for a short period (39 days). 
I received advice via his stepson Bradley Shaw.  Dennis has attended at least one of our reunions and we have had some correspondence and phone calls over the years.  He could not remember much about his time with D Coy.
Rest in Peace Dennis
Terry Dinneen
22349 Major Keith Francis Houley, 2RAR
Vietnam (Maj)
2nd Battalion, The Royal Australian Regiment
09/05/1967 to 05/06/1968
OC Admin Coy.
Keith passed away at Yadina QLD on 7th December 2015, aged 85+ years.
Rest in Peace Keith.
Notes:
I served in Malaya 1956-59 with 2 RAR in Assault Pioneer Platoon. The Platoon Commander was 2Lt Houley, the best platoon Commander I ever had. A little over weight, which earned him the nickname "Humphrey", this originated from the overweight cartoon character from the Joe Palooka comic who rode a bicycle towing a small trailer. Keith was a religious man, which very rarely showed. On one particular ambush, which was the longest we ever did, I had the opportunity of sharing a 2-man hootchie with Keith. He loved his food i.e. a ration pack – all ingredients for the evening meal, curry all contents together, rice, oatmeal bar, cheese, jam and even a chocolate bar and of course the 'concrete' biscuits. To sum up what I believe to be his character, I offer this anecdote: Privates Graeme (Doc) Hardiman and Private Jack Hewitt whilst carrying out an engineering course at the British Base Engineer Training Centre, Kluang, Johore October 1957. Passing two British Subalterns we failed to salute them, they stopped us and asked us why we failed to salute officers, we replied, "We do when we recognize them".  Later in the Officers Mess a more senior British Officer asked Keith why his men failed to salute his junior officers. Keith's reply was, "Why the hell should they, they don't even salute me". I left 2RAR in mid 1958 and only had contact briefly with Keith. I bumped into him in the Queensland rain forest during Kangaroo 1. I was a Corporal Medico and he was a Major Umpire. He said have you learned to salute officers yet, so I threw him a 'boxer'.
Graeme 'Doc' Hardiman

Capt Houley was 2IC B Coy 3RAR 1963 and I am sure served in other postings in 3RAR prior to that. He was an excellent man manager and a good officer.
Darcy Dugan
215712 Corporal Malcolm "Bluey" Gibson, DCM
Vietnam (Cpl)
2nd Battalion, The Royal Australian Regiment
13/06/1967 to 13/06/1968
1 Australian Reinforcement Unit
25/11/1968 to 10/12/1968
4th Battalion, The Royal Australian Regiment
11/12/1968 to 21/04/1969
Passed away at Redcliffe on 6th December aged 70+ years.
Notes:
It is my sad duty to inform you that 'Bluey' Gibson DCM passed away peacefully at the Palliative Care Unit of Redcliffe Hospital on Sunday 06 December 2015 at approximately 0900hrs.
Blue had been very sick with cancer for some months but had requested that only his immediate family and friends should be informed. I visited Bluey in hospital last Monday and we talked and laughed for about an hour until fatigue set in. Even then he was experiencing severe pain and was not entirely comfortable. The cancer had spread throughout his body and internal organs.
His wife Tricia is taking Bluey's passing with strength and resilience and it is expected that Bluey's funeral service will be conducted on Thursday 10 December at Redcliffe. The details will be announced as soon as possible.
Blue served in 4RAR at Woodside SA, Malaya, Borneo and two tours of South Vietnam, his first tour in 1967/68 with 2RAR was followed by another with 4RAR from 1968/69.
A complete record of his service will be announced in a day or two as soon as they are received from ADF Records (the old CARO).
Alan Price
President
4RAR Association
340105 (QX35759, VX700220) Gilmer John Lucas MC, WWII, 1RAR, 2RAR, 3RAR
World War II (Sgt)
DOE: 9 Jul 1942
DOD: Unknown
Posting at Discharge: Bootless Bty
Korea (Lt, MC)
3 April 1952 to 10 March 1953
1st Battalion, The Royal Australian Regiment
Gill Lucas passed away on night (17/18 Nov 15) aged 94.
Notes:
He is survived by his daughters Leanne Thompson and Robyn Lucas.
Gill was a Second World War veteran and an original member of The Regiment and present at its formation.
His funeral service will be held next Wednesday 25th November at 9.00 am at the Gregson & Weight Funeral Home at Caloundra.
The family asks guests to wear their medals.
The wake will follow at Leanne & Walter Thompson's home at 24 Greenhaven Drive, Palm View 4553.
Please pass this information to those who may have served with Gill for their relay to others.
Rest in peace gallant warrior.
Duty First
Ted Chitham
RARA National Secretary
Gill was the Battalion 2IC to LTCOL Arthur Rofe when I marched into the Second Battalion in 1966.  He was a gem of a man, nature's gentleman as well as being a first class soldier.  RIP Gill.
Gordon Hurford
Gill Lucas was a captain in the Regiment and I think at Jungle Training Centre Canungra back in the "old days", the fifties, when I first met him.
I know he served as a lieutenant colonel on the staff of Northern Command in the late sixties.
He was a nice bloke and certainly has had a good innings, but sad to see him pass on nonetheless.
Brian McFarlane
2791253 Private John Anthony Mitton, 2RAR
Vietnam (Pte)
2nd Battalion, The Royal Australian Regiment
12/05/1970 to 03/09/1970
Passed away on 6th November at Nepean aged 67+ years.
25686 Private Ronald Lewis Kirley
Korea (Pte)
17 March 1953 to 5 December 1953
2nd Battalion, The Royal Australian Regiment
31 December 1953 to 6 April 1954
2nd Battalion, The Royal Australian Regiment
Veteran of The HOOK.
Ron Kirley passed away aged 81+ years
Notes:
I had the sad duty to do the Eulogy for Ron Kirley at Toowoomba on Wednesday 7 October. Another Battle of the HOOK veteran has departed. RSL Toowoomba did the RSL Service and did it well.
Matt Rennie, OAM
Immediate Past President
212621 Warrant-Officer Class 2 Mervyn George (Taffy) Burt, 2RAR
Vietnam
2nd Battalion, The Royal Australian Regiment
08/05/1967 to 29/05/1968
C Coy (Sgt)
2nd Battalion, The Royal Australian Regiment
16/05/1970 to 01/06/1971
(WO2)
Age: 88+ years.
Place of Birth/Place of Death: Neath, WALES UK.
Notes:
"Taffy" Burt ex 2RAR BURT Mervyn George (13th Battalion The Parachute Regiment and Warrant Officer The Royal Australian Infantry).  Passed away peacefully on Saturday 4th July 2015 at his home in Neath, WALES UK, in the arms of Myra, his loving wife of over 40 years, who was forever by his side.
Mervyn, aged 88 years of Eastland Place, Neath (formerly of Westbourne Road, Neath),
Taffy was in C Coy first tour.  He was also one of my instructors at Scheyville.  A dedicated, professional soldier and a first class instructor who was a tough nut indeed.
Gordon Hurford
—
One day in 1966 when training at Inf Centre Ingleburn, Cpl Taffy Burt gave us diggers a lesson on the SLR .  We were inside a WW11 era hut of poor repair. At one point during the lesson Taffy stepped back and fell through the floor.  Having climbed out, he said: "Gentlemen, you will have noticed I did not let go of the weapon."  
I still remember that lesson.
Rick Hollingdrake
—
Taffy was C Coy with 'Blue' Frew and 'Boof' Millwood.  That's Taffy with Lorrae Desmond and the boss of the ABC Dance Band on the day of the Rocket Incident. Bn 1967-68 book: page 92.
Terry Dinneen
Rest in Peace Taffy.
18471 Private Eric John Johansson, 2RAR, 4RAR, 2/4RAR
Vietnam (Pte)
2nd Battalion, The Royal Australian Regiment
19/05/1967 to 24/12/1967
4th Battalion, The Royal Australian Regiment
13/05/1971 to 17/12/1971
Townsville
2nd/4th Battalion, The Royal Australian Regiment
1973-76
Eric passed away on 4 September 2015, aged 71+ years.
5/7046 James Percival Monteath, 3RAR, 2RAR
Malaya (Lt)
3rd Battalion, The Royal Australian Regiment
1957-59
Vietnam (Maj)
2nd Battalion, The Royal Australian Regiment
08/05/1967 to 28/11/1967
Jim passed away in Perth 2 Sep 2015, aged 81+ years.
Notes:
I first met Jim at Enoggera in 1965/66 in our shared officers' mess when I was OC C Company 6RAR and he was in 2RAR. Later as OC C Coy 2RAR in Vietnam 1967 his company occupied the same lines that my men and I had set up during 66-67.
In 1968 Jim and I were at Staff College and lived in the mess, both being single. I again knew him in Sydney when he was on the General Staff at Eastern Command and handled the evacuation of VIPs attending the CHOGM Regional Meeting to the Blue Mountains following the Hilton bombing incident on 13 February 1978. In that incident three persons in the street including a policeman had been killed and eleven others injured.
Jim was a fine officer and a good friend and I am saddened to hear of his death.
Brian McFarlane
—
Saddened by the news of the passing of a very dear friend, great mate and eminent soldier. Jim was best man at my wedding.
May he rest in peace.
Lewey
NSW Chapter Orderly.
3787926 Private Viktor (Vic) Winkler, 2RAR (WIA)
Vietnam (Pte) (WIA)
2nd Battalion, The Royal Australian Regiment
19/05/1967 to 09/10/1967
Victor has passed away 26 August 2015, aged 70+ years.
Notes:
I am so, so sorry. My deepest sympathy to you and the family.  Vic was a great bloke and a bloody good soldier. He had a heart that was bigger than all and was a true friend. There are so many memories that come flooding back, good memories, which is how I will always remember him.
I am in Europe and will not be home until towards the middle of next month.  Obviously, I will not be able to attend Vic's funeral however you can be assured that I will be thinking of him and you and the family.  Please let the others know that I am unable to attend.
A person never dies until the memories fade away – that will never happen in Vic's case. In deepest sympathy,
Gordon Hurford
—
RINGO: October Edition 2010: D Coy Rocket Incident: 28 September 1967.
My old mate Vic Winkler standing next to me was badly wounded in the back, & all we had were field dressings on our rifle butts to patch him up.
Tom Young (Dec'd)
—
Rest in Peace Viktor
33723 Major Alexander Patrick (Blue) Thompson, MBE, 1RAR, 2RAR, SASR, 7RAR
Korea (Sgt)
1 April 1952 to 16 March 1953
1st Battalion, The Royal Australian Regiment
Malaya (WOII)
1961-63
2nd Battalion, The Royal Australian Regiment
Borneo (WOII)
1965
Special Air Service Regiment
Vietnam (RSM)
7th Battalion, The Royal Australian Regiment  (WO1)
08/04/1967 to 09/01/1968
7th Battalion, The Royal Australian Regiment  (Capt)
10/02/1970 to 04/03/1971
'Blue' Thompson passed away early in June 2015 aged 82+ years.
1200457 Corporal Vivian Peter Stuart, 2RAR, AATTV
Vietnam (Cpl)
2nd Battalion, The Royal Australian Regiment
10/05/1967 to 12/03/1968
2nd Battalion, The Royal Australian Regiment
05/04/1968 to 13/06/1968
2nd Battalion, The Royal Australian Regiment
17/05/1970 to 10/06/1970
Australian Army Training Team Vietnam
11/06/1970 to 07/01/1971
8 Pl Coy 1967-68
Viv Stuart passed away 6 June 2015 aged 69+ years.
6/845 Warrant Officer Class 2 Rex William Murfet, 2RAR, 1RAR, 3RAR
4th Battalion, The Royal Australian Regiment
(Royal Australian Regiment Depot)
1952
Korea (Pte)
29 September 1953 to 25 October 1954
2nd Battalion, The Royal Australian Regiment
Malaya (Sgt)
2nd Battalion, The Royal Australian Regiment
1955-57
Rex Murfet passed away in Tasmania on 28 April 2015 aged 84 years. Rex served in 2RAR, 1RAR & 3RAR in Japan, Korea 1953-54, Malaya, and Borneo.
335111 Major John Damian Lloyd, 2RAR
Malaysia
2nd Battalion, The Royal Australian Regiment
09/08/1963 to 17/08/1963
Vietnam (Maj)
2nd Battalion, The Royal Australian Regiment
29/04/1970 to 26/05/1971
John passed away recently aged 78+ years.
Notes:
John was one of my company commanders ( Alpha and Admin) on the second tour in the RVN. He also served with the Battalion in Malaysia on the second tour. I have no other details.  Perhaps someone may know more.
John Church
I was a member of the 2nd Battalion from 1958 until 1965 when I became one of the originals of the 6th Battalion; in both Battalions I was a member of the Mortar Platoon. I can remember when John Lloyd first came to the Battalion as a young Officer, straight on to duty officer, and being just out of Officer training at Duntroon, hit the guard like a ton of bricks. We were all charged with not having the inside of our brass belt buckles polished, but I think the RSM got that sorted out because the A4's never seen the light of day. We immediately knick named John Lloyd who had red hair the' Red Rodent' which stuck with him until he was posted out of the Battalion. John became our Mortar Platoon Commander and in 1961 off we went to Malaya. We all got to like John as he mellowed quite a lot. John did me the Honour of giving the Bride away at my wedding in 1963 and supplying his lovely Jaguar to bring my sweet bride to the church. We both appreciate what he did for us. In 1968 for a short time he was our rear neighbour up at Townsville, after that we never ever saw him or his lovely wife again. My wife and I are saddened to hear that he has passed. Our condolences to his wife Vicki and Family, may he rest in peace.
Johno Johnston.
1732255 Private Frank Thomas Kehoe, 2RAR
Vietnam (Pte)
2nd Battalion, The Royal Australian Regiment
19/05/1967 to 12/08/1967
2nd Battalion, The Royal Australian Regiment
02/09/1967 to 13/06/1968
5 Pl B Coy – Forward Scout
Frank Kehoe passed away on 7 April 2015 age 69+ years.
Notes:
7 years ago he was given 6 months to go and he struggled on so positively. A great forward scout regardless he was married and a father but he did his job. He was a real fighter and still able to crack a smile and laugh. Hats off to you Frank!
Bob Devers
Frank was in 5 Platoon B Coy first tour. He was a very popular digger. Our mate passed away this morning (7 Apr 15). Cathy was with him and he passed peacefully and wasn't in pain.
Smithy
5/2841 Private John Desmond Wimbridge, 2RAR
Malaya (Pte)
1955-57
2nd Battalion, Royal Australian Regiment
D Company
John Desmond WIMBRIDGE passed away peacefully aged 79 on 24 March 2015 at Kinross, WA.
The Cremation Service was held on Tuesday (31.3.2015) at Pinnaroo Valley Memorial Park East Chapel.
13687 Corporal Derek Anthony Bligh, 2RAR, AFVPU
Malaya (Pte)
2nd Battalion, Royal Australian Regiment
1955-57
Vietnam (Cpl)
Australian Force Vietnam Provost Unit  (AFVPU)
26/05/1967 to 21/05/1968
Royal Australian Army Provost Corps
Derek Bligh passed away on 15 February 2015 age 80 years
Notes:
Derek served with 2RAR in Malaya.  He later transferred to the then Provost Corps and served in SVN 67/68.   He was involved in the US Embassy incident during Tet 1968. 
I knew Derek well – a real nice bloke; he was the heavyweight-boxing champion of 2RAR in his time.
Jock Cassidy
215799 Private Timothy Hocart McCombe, OAM, 2RAR
Vietnam (Pte) WIA
2nd Battalion, The Royal Australian Regiment
19/05/1967 to 14/08/1967
11 Pl D Coy
Tim McCombe passed away on 31 January 2015, at Bowral and District Hospital, New South Wales aged 69+ years
Notes:
With the deepest sympathy I pass this email onto you. Tim McCombe OAM was an icon in the field of war veteran issues, he was
second to none. He served and suffered yet devoted most of his life to the service of war veterans and ex-service persons
generally. We will miss this great Australian.  REST IN PEACE SOLDIER.
Frank Cole
Hon. Secretary
Vietnam Veterans, Peacekeepers & Peacemakers Association of Australia (NSW Branch) Inc
(Affiliated with the Vietnam Veterans Federation)
—
The committee and members extend our deepest sympathy to his family and many friends both within and outside of the profession of arms. Tim had had a relatively short but notable career in the Army having served with 4 RAR in Woodside, Malaysia and Borneo from 1964 and later in South Vietnam with 2 RAR in 1967 where he was seriously wounded and lost both legs. Tim was the President of the Vietnam Veterans Federation Australia and was awarded a Medal of the Order of Australia for his service to veterans during his time as president.  Tim is remembered with respect and affection by the members of the Association.
Alan Price
President
4 RAR Assoc, Qld Inc
235311 Colonel Victor Joseph Adams, 2RAR
Vietnam (LT)
2nd Battalion, The Royal Australian Regiment
19/05/1967 to 13/06/1968
Vic Adams passed away 31 December aged 70 years
Sx2905, 4/738 Warrant-Officer Class One  Raymond Gordon Wilson Baldwin, OAM. 2/27 AIB, 2RAR
WW2 – Middle East, Kokoda, Gona, New Guinea, Borneo.
2/27 Australian Infantry Battalion 1940-45
Malaya
2nd Battalion, Royal Australian Regiment
1961-63
Passed away 15 December 2014 aged 93+ years.
3411971 Private Graeme Patrick Cummins, 1ARU, 2RAR
Vietnam (Pte)
1 Australian Reinforcement Unit
14/08/1967 to 20/10/1967
2nd Battalion, The Royal Australian Regiment
21/10/1967 to 13/06/1968
Graeme passed away 24 December aged 68+ years.
37872 Private Andrew Ross, 3RAR, 2RAR
Post Malaya
Enoggera, Qld
2nd Battalion, Royal Australian Regiment
1963 –
Andrew Ross passed away in October 2014 at Cleveland, Qld.
2792898 Private Douglas John ('Jekyll') Hyde, 2RAR
Vietnam (Pte)
2nd Battalion, The Royal Australian Regiment
28/05/1970 to 01/06/1971
1Pl A Coy (forward scout, 1 Platoon, A Company, 2RAR, Vietnam 1970/71)
Passed away in Canberra 17 December 2014 after a long illness aged 65+ years.
15771 Corporal Richard Keith Fowler, RAAMC 2RAR
Vietnam (Cpl)
2nd Battalion, The Royal Australian Regiment
30/05/1967 to 04/09/1967
Royal Australian Army Medical Corps
Passed away 13 December aged 72+ years
The funeral was held on 17 December at Albany Creek QLD
Notes:
Dad was very proud of his Service and the people he served with. Dad was a member of both Sandgate RSL & Kedron Wavell Services Clubs.
Arthur Fowler
27330 Major William Kenneth (Maps) Carter, MID, 2RAR
Vietnam (MAJ) (MID)
2nd Battalion, The Royal Australian Regiment
19/05/1967 to 13/06/1968
Officer Commanding Bravo Company
Bill Carter passed away on 7th November at Caboolture, Qld: Age: 80+ years. The funeral was held on 19th November.
44127 Private Malcolm Owen, 2RAR
Vietnam (Pte)
1 Australian Reinforcement Unit – 30/06/1967 to 15/08/1967
2nd Battalion, The Royal Australian Regiment – 16/08/1967 to 13/06/1968
12 Pl D Coy
Headquarters, Australian Force Vietnam (Army Component) – 17/09/1970 to 01/10/1970
Mal Owen passed away on 20th September 2014: Age: 66+ years

11952 Corporal Douglas Leonard Langdon, 3RAR, 2RAR
Korea (Pte) (WIA)
16 December 1951 to 29 August 1952
3rd Battalion, The Royal Australian Regiment
Malaya (Cpl)
2nd Battalion, The Royal Australian Regiment 1955-57
Douglas Langdon passed away peacefully at home on Thursday 20 November2014: Aged 81+ years.
Comments
I first served with Doug with Water Transport RAE in early 1954.  When I corp changed I was posted from 4 RAR then to the 2 RAR Assault Pioneers at Enoggera in 1955 and there was Doug.   We did Canungra and Wiangaree together and sailed for Malaya on the 8th October 1955. He always loved the country and hated the city which I, being a city boy, was all for. Doug was a good mate and a very good Soldier. Rest In Peace Doug old Mate.
Alf Vockler
2 RAR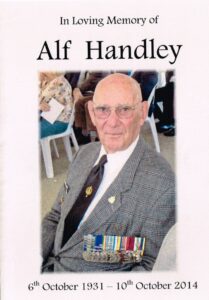 13793 Warrant-Officer Class 1 Alfred Frederick James (Mother/Alf) Handley, 1RAR, 3RAR, 2RAR. QUR (RSM)
Korea (Pte)
15 December 1955 to 24 March 1956 – 1st Battalion, The Royal Australian Regiment
Malaya (Pte)
1957-59 – 3rd Battalion, The Royal Australian Regiment – C Coy
Malaya
1963-65 – 3rd Battalion, The Royal Australian Regiment – C Coy
Borneo (Cpl)
1965 – 3rd Battalion, The Royal Australian Regiment – C Coy
Vietnam (SSgt/CSM)
19/05/1967 to 13/06/1968 – 2nd Battalion, The Royal Australian Regiment – CQMS A Coy
Vietnam (WO2)
12/05/1970 to 01/06/1971 – 2nd Battalion, The Royal Australian Regiment – CSM A Coy
Alf served 1955 to 1986
Alf passed away on 10th October 2014: Aged 83 years.
Notes and Comments
Warriors and Friends,
Tragically, Alf was struck by a car in Alexander Parade, Alexander Headlands at 6pm last night and died at the scene of the accident.  Our condolences and our prayers go to Barbara and the Handley family.
As most would know Alf was a noble and respected warrior who gave so much to the advancement of The Royal Australian Regiment Queensland as its President and in that time the construction of The Regiment's National Memorial Walk and the formation of its Dads' Army.
Alf will live on in our memory.
Duty First
Ted Chitham
—
I was completely lost for words when Greg Decker rang me earlier this morning with the tragic news regarding Alf Handley. While I had never served with Alf, I had known him for many, many years. Alf was a professional soldier, a great example to all who served with him and to those who did not have that honour. He was a gentleman of the old school, a great leader and mentor. Alf made an enormous contribution to The Royal Australian Regiment, and especially to the Queensland Branch of The RAR Association and the National Memorial Walk. I always valued his wise counsel. Along with many others I will miss him.
Our prayers and thoughts are with Barbara and their family.  We have lost a true Aussie and a great cobber.

Neil Weekes
President
RAR Association (Queensland)
—
I am absolutely shattered by the sad news that Alf was killed in an pedestrian accident. It will take some time for me to digest the news and, like the news on Tom Young; it comes with such suddenness and shock. Even now it is hard to believe.  I know that you will all group together behind Barbara and give her the 2RAR support she needs.
Sadly, in this case, I will not be back home in time for the funeral and I would like my apology relayed to Barbara please and let her know that I will there in spirit.
Alf was a super guy whose prowess as a soldier, NCO and Warrant Officer are definitely 'second to none'. I had great personal admiration for Alf and had known him since I marched into 2RAR in April 1966. He was never backward in coming forward to volunteer when help was needed, particularly by the Association.
I am sure he was the same in his private life. Alf is irreplaceable and we will be poorer for his passing.
Gordon Hurford
Secretary, 2RAR Association

1410707 Private Raymond David (David) Huntley, 2RAR
Malaysia (Pte)
2nd Battalion, The Royal Australian Regiment
1961-63 (Reinforcement)
Committee member David Huntley passed away on Friday 19 September.
Regimental Ode
"Rest ye, oh warrior,
You'll battle no more,
No longer to live
The horrors of war.
Your duty was done,
With honour and pride'
Farewell! Oh brother,
Until we march by your side."
Your duty done, may you now Rest in Peace